First time getting a personal loan or unsure why you should bother comparing loan offers? Think your regular bank's personal loan offers truly the best option for you... simply because they are 'legitimate'? Sometimes this isn't always the case and comparing loans can give you a different answer!
Key things to look out for in comparing personal loans
Before we get into why you should compare multiple loan offers, what are the key factors to consider when choosing a personal loan? Here's a quick recap and review of each step of the personal loan comparison process provided by yours truly.
Already know what you're looking for? Let's get started right away.
Comparing personal loans? Here's why!:
1. To find the best personal loan deal possible
To find the best personal loan deal ever, you must first understand the complexities of a loan offer as well as its actual true costs.
It's fairly obvious that the amount and term of your personal loan will influence how much your repayments will cost. But that isn't all. What other factors influence the true cost of a personal loan? Here's an infographic to help: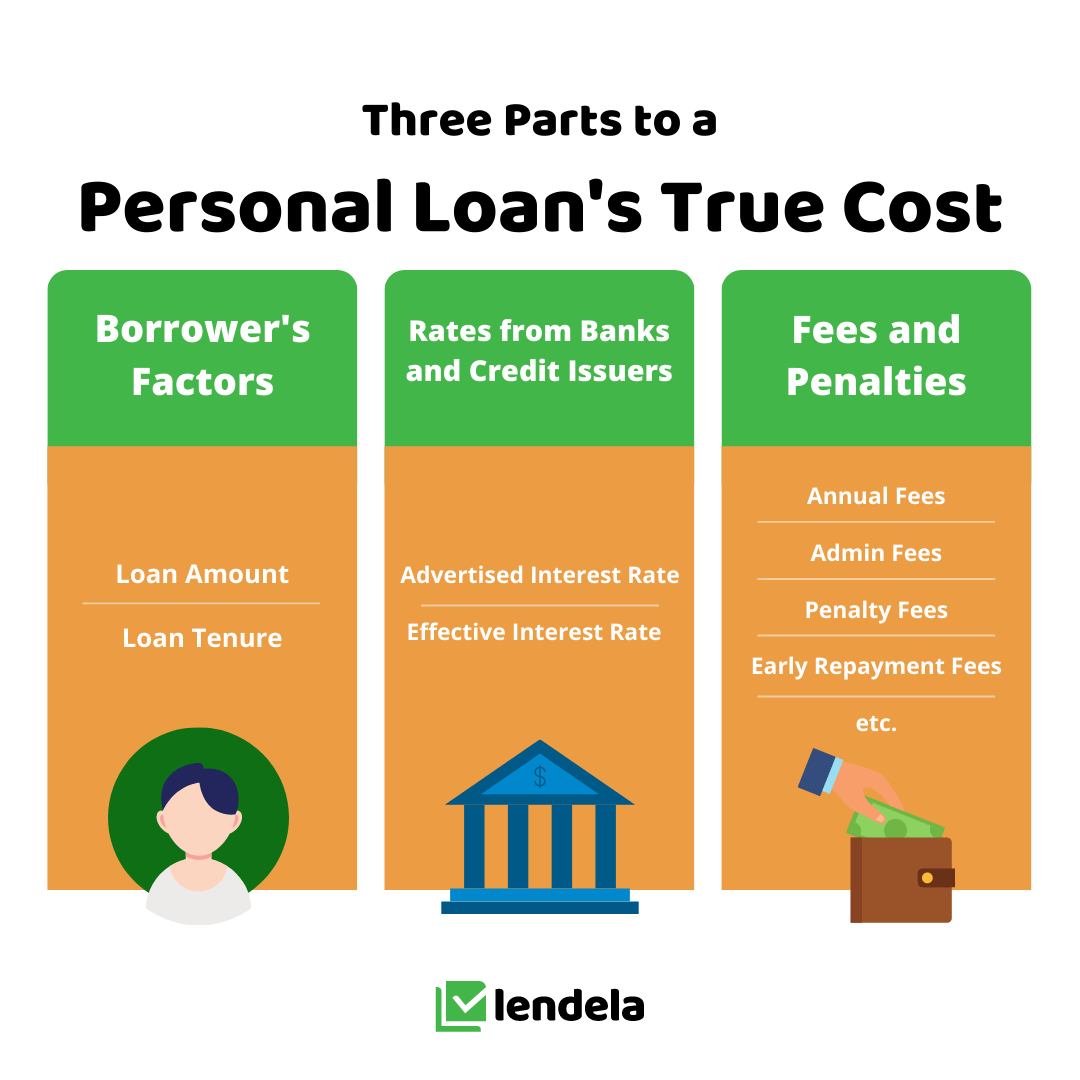 Predictable factors such as fees and penalties, as well as your set loan amount and loan tenure, are relatively simple and easy to understand. What is more difficult to calculate are the interest rates on your personal loans and calculating a loan's Advertised and Effective Interest Rate (EIR) requires a little more work. Thankfully, ValueChampion has an article to help you out.
Knowing the true cost of one loan is one thing – but knowing that after comparing several other personal loan offers and options and then knowing that you have a much better deal out there? That's one less thing to worry about when you know you'll save money by accepting a personal loan offer and deal that's much more affordable for you.
2. It's okay if your personal loan application is rejected
It's not uncommon for people to get overly excited about the prospect of securing a personal loan deal, only to be turned down by financial institutions because they don't meet the loan's requirements.
This can be a very frustrating process, but Crawfort has written an article to highlight the reasons why credit issuers may decline your personal loan application, which we highly recommend reading, especially since it is written from the perspective of a loan issuer!
Understanding why you were rejected for a personal loan may make it easier for you to understand your creditworthiness, and what you'll need to do the next time you apply with the same credit issuer.
You should not, however, limit your search to simply improving your creditworthiness until you are accepted by a bank or financial institution, or simply finding one who will work with you. Instead, search with the intention of comparing multiple loan offers from various credit providers. When you compare multiple offers and choose the one that most appeals to you, you will not only be able to receive a loan disbursement much faster, but you will also be able to get the best loan deal possible.
Comparing personal loans alone can be overwhelming
We've told you about the pros, so now we'll tell you about what possible cons that might come with doing personal loan comparisons by yourself.
1. Too time and effort-intensive
The effort needed to compare personal loans one by one from various loan providers can be a hassle. This may entail not only visiting websites to compare terms virtually, but also physically visiting offline credit issuers if one decides to do so. That could be a lot of work!
2. Inaccurate calculation
Even if you calculate and are certain that you will pay a certain amount, hidden fees may creep up when you go through the process of getting a personal loan and you end up repaying more than you wish to.
When comparing banks, pay close attention to the difference between the principal and total amount payable, according to our own comprehensive guide to personal loans. If the interest does not cover the entire difference, there is likely to be an additional hidden charge. If one does not take the extra step to account for all costs, this can easily be overlooked.
Too much work? Lendela can help.
Is the prospect of putting in too much effort scaring you away from loan comparisons, and perhaps even personal loans? You'll be happy to know that we at Lendela can help shoulder the costs and cons of comparing loans!
How our platform works:
Set up your personal profile and submit a loan application on our website.

Banks and financial institutions will return to you with multiple, personalised loan offers.

Lendela calculates the total amount for repayment for every personalised loan offer with no hidden fees! Lendela only works with banks and financial institutions who are 100% transparent.

Choose the best deal and get your personal loan disbursement!
Finding the personal loan of your dreams is much easier and simpler with Lendela than it would be if you did it on your own. Find the personal loan of your dreams with us!