If you have renovation works to complete at home, the smart way to handle them is using renovation loans. As we have demonstrated in this post, the loans are only available to homeowners and come with low-interest rates. Remember that if you do not qualify for a renovation loan, it is also possible to use a personal loan to fund the renovation job. Again, ensure to borrow what you can repay comfortably and stick to the agreed repayment schedule.
After getting the keys to your home, one thing that you will need sooner than later is doing some renovations. Indeed, some people opt to do major renovations immediately after settling in their homes to give them a customised touch and increase value. If you do not have enough savings for home renovation, one of the best funding options is a renovation loan in Singapore. You will understand everything about personal loan vs renovation loan.
A renovation loan is a form of credit that is specially designed to fund home renovation projects. So, is it a good option for you? How does it work? Keep reading to get answers to all of these questions. In addition, we will tell you about the four most important things to look for in a home renovation loan.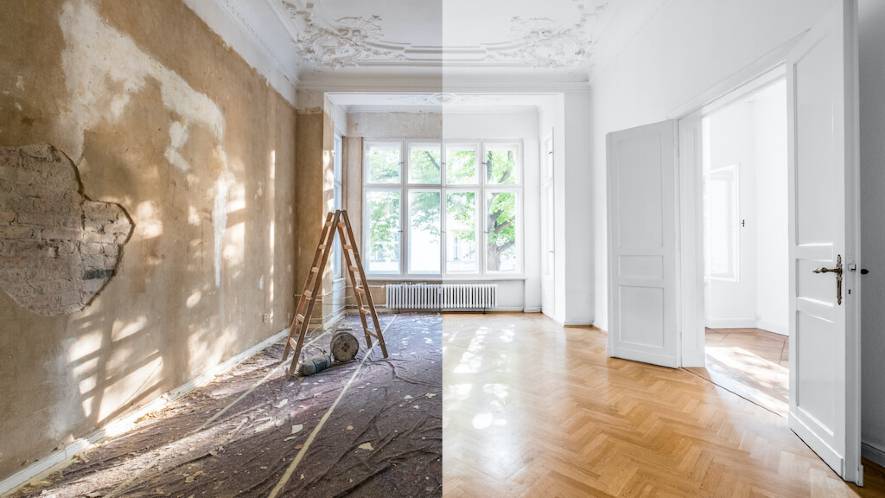 A Closer Look at Home Renovation Loans in Singapore
A home renovation loan is an unsecured form of credit advanced to homeowners to help them increase the value of their property. So, you do not have to worry that a lender in Singapore will come and sell your house if unable to repay. However, this should not make you put less effort on paying the loan because there are serious dangers that come with it, such as damage to your credit score.
Advantages of Using Home Renovation Loans
When you take a renovation loan, the main advantage is that it comes with a lower interest rate than personal loans. It also comes with a long tenure of one-five years, depending on the lender. So, once the renovation loan is approved, the repairs are completed right away by the selected contractor and the payment made on a monthly instalments for the entire loan term.
Unlike a personal loan where the lender releases funds to your personal bank account, the renovation loan is different. To reduce the temptation of borrowers directing funds to other areas, the money is only released to the contractor who is undertaking the renovation work. The selected lender might also conduct site visits to confirm that the renovation work is ongoing as planned.
Because you are borrowing to renovate the home, the loan is a great way to allow the homeowner to take credit for the value of his/her house. If the actual value of the house is $500,000 but will be worth $650,000 after renovation, you get the attachment to the additional value. For a person who might want to sell the house in the future, this can be a great addition to help increase the price tag and attract buyers fast.
How Does Home Renovation Loan Compare to Line of Credit?
One of the options people in Singapore consider when thinking of home renovations is a home equity loan. This is a type of credit that allows the homeowner to borrow against the equity of his/her property. However, you are required to downsize the value of the project if the home equity is not enough or fund the balance. In most cases, people who have stayed for more than ten years in their homes might not have issues using home equity loans, but this might not be the best option for recent home buyers.
What Kind of Renovations Can You Do with a Renovation Loan?
There are a number of renovation works that you can do with the loan, but they have to be well detailed by a contractor. This implies that even before making an application, a contractor should have assessed the work. So, here are some of the renovation tasks that can be done with home renovation loans.
These are major renovation tasks that target giving the home a completely new face. For example, you might want to redesign the living room by extending it to include a small library section. These are structure alterations, and they can increase the value of the house with a significant margin (all about renovation loan calculator in Singapore).
Electrical and Wiring Works
If you notice that the house's electrical system is getting old or outdated, it will be a good idea to have it fixed. Indeed, this is crucial to ensure your home is safe for your family. To determine whether there are wiring tasks that need to be done, check for things such as hanging cables, loose connections, and regular failures.
Do you feel that your home can be a lot better with an extension? This can be something such as a patio, verandah, garage, or creating a new room if space allows. If you are innovative, extensions can even help to generate some income for you. For example, you can extend the house with several rooms and let them. See, the cash can serve as an additional stream of revenue or help with loan repayment.
Floors, especially the high traffic areas of your home, can get damaged pretty fast. So, whether the floor has become loose or faded because of regular tramping, you can use funds from a renovation loan to repair or replace it.
These are only a few activities that you can use a home renovation for. Others include carpentry, painting works, bathroom fittings, installation of a new solar system, and basement jobs. However, you need to note that renovation loans are not allowed for tasks such as paying for artwork, smart devices, household appliances, and curtains.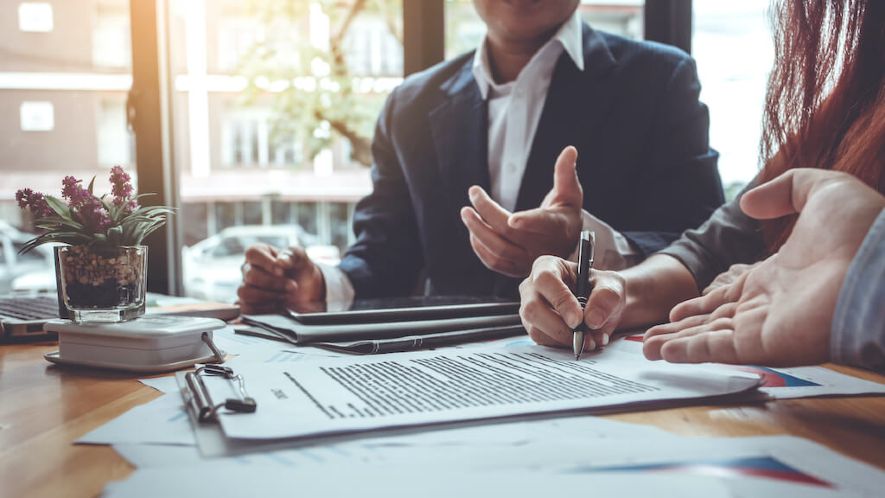 Five Things to Look for in a Home Renovation Loan
Now that you know what a renovation loan is and how it works, are you ready to apply for one? If the answer is "yes," it is important to start by thinking about the following five things.
1. Promotion Interest Rates

When looking for any loan, be it a personal loan, car financing, or renovation loan, it is important to ensure that your eyes are fixed on the cost of credit. The goal should be identifying the loan with the lowest interest rates. The good thing about renovation loans in Singapore is that banks offer periodical promotional interest rates, and you should target taking advantage of them.
Some of the top examples include OCBC and DBS banks, which provide amazingly low-interest rates for homeowners targeting to make their homes eco-friendly. So, think of improvements such as adding solar panels or green roofing, and these lenders are likely to fund the activity with lower rates.
2. The Loan Processing Fees

In addition to the main loan interest, it is important to pay special focus to the processing fee. Some lenders charge up to a 1.5% processing fee, which can be pretty high depending on the amount you are borrowing. If you borrow $15,000 with a processing fee of 1% to renovate your house, it means that $150 will go to process the loan. Where possible, look for a lender with no processing fee.
3. Personal Credit Score

As we have highlighted, a renovation loan is an unsecured form of credit. Therefore, lenders primarily rely on your credit score to determine the interest rates. If the score is poor, your renovation loan is likely to attract high-interest rates. This is why you should check it carefully and ensure it is at its best.
One good idea is to get your credit report from Credit Bureau Singapore and correct errors if any. You might also want to clear the existing debts and maintain a good credit mix to boost your score.
4. How much is the Lender Willing to Offer

Some renovation works, such as creating extensions, can be expensive. Therefore, if you want to undertake such extensive works, consider checking the maximum that different lenders are willing to offer. In Singapore, the maximum that you can borrow as a renovation loan is six times your monthly income. In addition, you must have a minimum of $24,000 to qualify for a renovation loan from most lenders.
Remember that even as you look at the maximum that lenders are willing to release, it is also crucial to think about what you can repay comfortably. Think about other debts that you might be servicing, such as personal loans, credit card loans, and student loans, and ensure they do not take more than 35% of your income.
5. Other Charges

If you read the renovation loan agreement carefully, it is likely to highlight all other charges that might be applicable in certain circumstances. These include charges such as a penalty for late payment, early repayment, cancelation, and overdue interest. Make sure to understand them well because they are likely to determine the total amount payable by the end of the loan term.
In Singapore, early repayment charges are set at 1-2% of the outstanding loan balance. This means that if you have cleared 50% of the loan and one of the monthly instalments was late, the penalty will not be calculated on the entire principal but half of it.
These five things are the most important things to check closely when taking out a renovation loan. In addition, you should also check the loan tenure and capability for refinancing.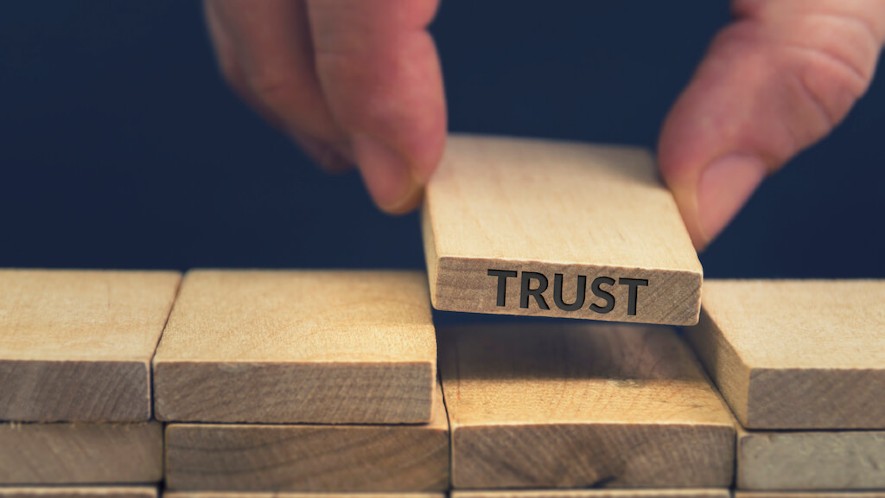 How to Keep the Cost of Renovation Low
Let us face it: renovating your home to look like that dream holiday destination in the Mediterranean holiday homes can cost a lot. Sure it is good, but you need to appreciate the importance of only spending what you can afford. So, here are some useful tips to help you keep the cost of renovation low:
Compare what different contractors are charging and go with the affordable one.

For every renovation task, there is likely to be a cheaper alternative. For example, you might want to overlay the floor with tiles as opposed to redoing it.

Think about the materials that you want to use. Sure, there are pretty expensive faucets for all the bathrooms in the house, but you can do with cheaper ones.

Is a new extension for your home vital? Instead of building a new concrete wall to create a home library, why not consider partitions. They will still serve the purpose.
Personal Loan vs Renovation Loan: How to Apply for a Home Renovation Loan in Singapore
As you can see, a renovation loan can come in handy to help convert your home into the paradise of your dreams. However, applying for a loan can be pretty challenging in Singapore because of the long list of lenders. "Do I apply from a bank or licensed financial institutions?" many people in Singapore ask.
Instead of taking a lot of time, perhaps days or months, trying to check the details of each lender, why not work with lender comparison sites? One good example is Lendela, a company dedicated to making loan applications easy, fast, and straightforward. Here are the main steps of applying for loans using Lendela:
Visit Lendela website to make a short application. Unlike with other applications that can take you much time, only a few minutes are required at Lendela.

Get offers from different lenders. Once your application is made, it is submitted to different lenders, who check and give their offers.

Check the offers and identify the one with the best conditions. Lendela will also come in handy to help you with this. Then, you will be booked for an appointment with the lender.

Sign the renovation loan agreement, and the money is released to your contractor. At this point, there is nothing that can stop you from turning your home into a paradise!
Conclusion
If you have renovation works to complete at home, the smart way to handle them is using renovation loans. As we have demonstrated in this post, the loans are only available to homeowners and come with low-interest rates.
Remember that if you do not qualify for a renovation loan, it is also possible to use a personal loan to fund the renovation job. Again, ensure to borrow what you can repay comfortably and stick to the agreed repayment schedule.